By Heather Lageman
The Learning Forward Foundation is a place of leaning in and lifting up educators in pursuit of their professional learning hopes and dreams.  Having just concluded our July Foundation Retreat, we would like to share with you some of the "behind the scenes" conversation, reflection, and planning that goes into the Learning Forward Foundation work.
It was a true professional learning retreat for the Learning Forward Foundation this summer!  We'll share the experience and resources with you in the hopes that this will spark a professional learning conversation in your school, district, state, or affiliate.
We began by digging into some rich reading materials and looking for the alignment of learning among three pieces:
Effective Teacher Professional Development Report
Authors Linda Darling-Hammond, Maria E. Hyler, Madelyn Gardner
8 Keys to Designing Tomorrow's Schools, Today
By Eric Sheninger and Thomas C. Murray
As we read each of the articles, our Learning Forward Foundation lead learners reflected on to questions:
How do you see them connecting to the Learning Forward Standards?
What implications do the connections among the articles and the Learning Forward Standards have for our work as a Foundation?
Images from our reflections and wonderings include: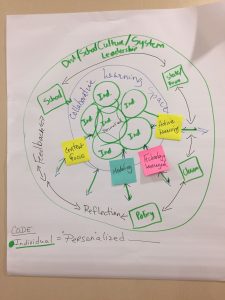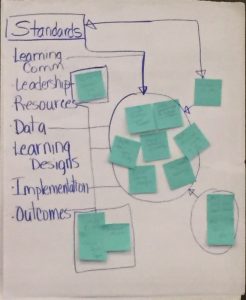 As the graphic depicts, the theme of growth, nurturing, and inter-connectedness made our retreat successful.  Getting back to our roots – our culture of collaborative leadership – made this reflection and planning possible.  So as the school year begins, we send our best professional learning wishes to Connect readers, and hope that you will use this activity to lean in and lift up educators through your professional learning leadership!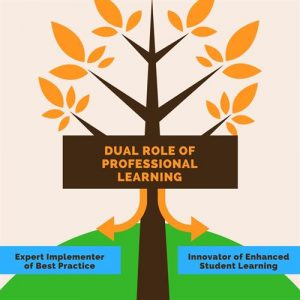 In the discussion, as we explored the relationship between the articles and the Learning Forward Standards, the conversation turned to the dual role of professional learning. Steve Barkley led us in exploring this dual role of professional learning as expert implementer of best practice and innovator of enhanced student learning: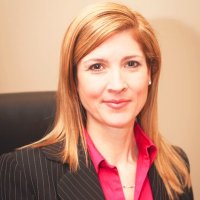 Heather Lageman serves as the Executive Director of Leadership Development for Baltimore County Schools in the Office of Organizational Development.  She is President of the Learning Forward Maryland Affiliate and Chair of the Learning Forward Foundation.